Affiliate disclaimer: We are a professional review site that receives compensation from the companies whose products we review.
When it comes to online guitar lessons there is one name that you will find above any other on the internet, and that is "Guitar Tricks". It is probably the site that you discovered first and you've seen on any list of guitar learning sites.
But why is everyone talking about it? Guitar tricks is undoubtedly one of the most famous and developed online guitar lesson platforms.
Check out this thorough review by real guitarists who've spent countless hours playing and learning with Guitar Tricks!
Table of Contents
There are several reasons for its popularity, the largest of which is the setting and maintaining the standard for online guitar lessons. It was one of the first to explode with a ton of lessons and increased production quality online.
Plus they have so much experience that really sets them apart from other sites. Guitar Tricks is one of the oldest sites of its kind.
They have been around since 1998, to put that into perspective, that is the same year Google was founded. Talk about tradition and being in the right place at the right time!
Over time, this site has accumulated a large number of lessons from over 30 guitar instructors. This large number of instructors is the main reason why Guitar Tricks have managed to provide material for every level and for every style.
Even more interesting is the fact that Guitar Tricks has no interest in stopping with the development and growth of their site. When you first open the site you will see that they have about 1000 song lessons and they are adding more weekly! That's insane by any standard.
It's not that they are reinventing the wheel, they are just going by the fact that learning songs is the easiest and most interesting way to learn and improve your guitar playing technique, and I say this from personal experience.
But to get to the level where a student can start playing full songs, there is a path that you must go through.
It is safe to say that Guitar Tricks have done their homework and have made this path comprehensive and easy to learn. Their learning experience is constantly upgraded through their famous "step by step" program.
The program consists of the basics, namely how to hold a guitar, setting the fingers and the pick, the layout of the strings and their names, etc.
This is divided into two levels which are further upgraded for each particular style from the basic three genres (according to Guitar Tricks) – blues, country, and rock.
Here you will find that there are new levers that when you climb you can expand your knowledge of the guitar and then go to the following levels for further advancement.
This is all very promising, but how much does Guitar Tricks cost? And they do have to make a profit, so as you guessed, Guitar Tricks is not free.
Specifically, there is a "basic access" account that is free but actually just serves so that users can get an idea of what the site is about, and not make real progress.
The "basic access" is very limited and doesn't offer anything special, especially not anything from all the good things we mentioned above.
But the answer to the question of whether Guitar Tricks has a free account is, technically, yes.


Who is a Guitar Tricks membership for?
There are several categories when it comes to target groups in Guitar Tricks, such as age, gender, level, stage of life, music experience, etc.
Once you have determined your level or which group you belong to, let's focus on finding out if Guitar Tricks is the right place for you.
Age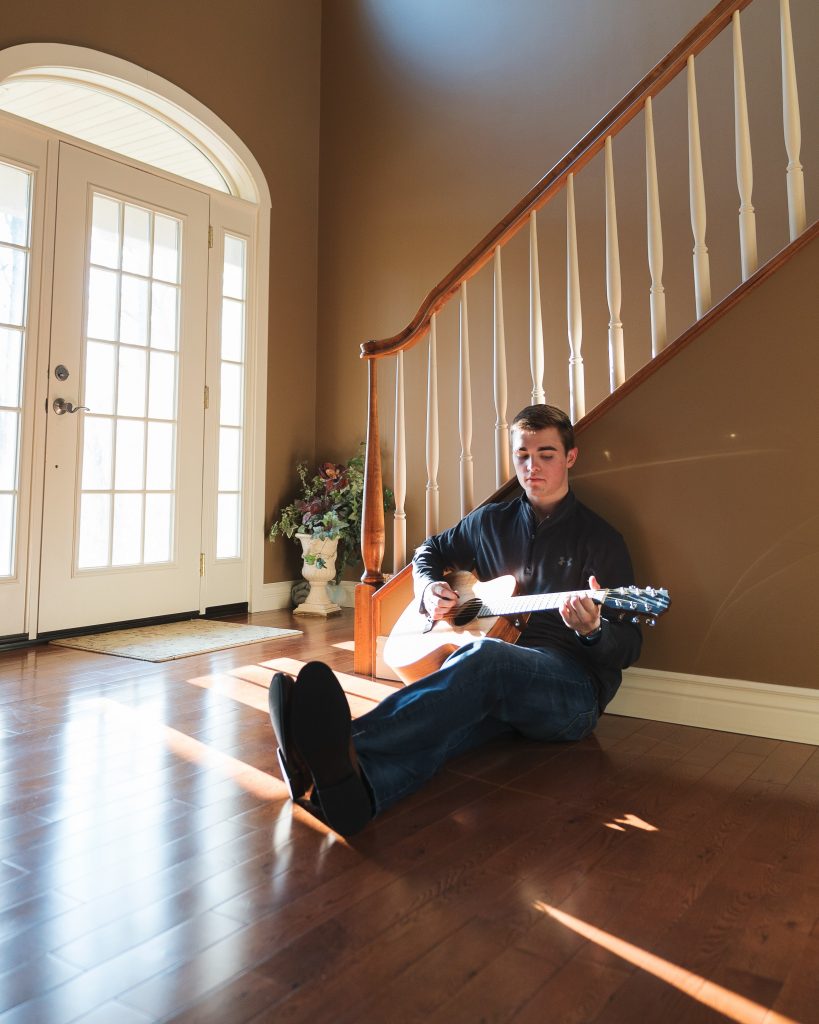 No matter what you've heard, it's never too late to learn the guitar.
First of all that you need to know is that playing the guitar is not a competition and there is no pressure on how much and how fast to progress. I know this is something that bothers older future guitarists, but it really shouldn't.
The most important thing is that they find the right place to learn guitar, and Guitar Tricks is a good destination.
Their program is very well developed and is suitable for anyone who wants to learn to play the guitar.
In addition to the program, the instructors also play an important role, and at Guitar Tricks you will find some of the best ones that can create a good atmosphere for each student, regardless of their age.
Gender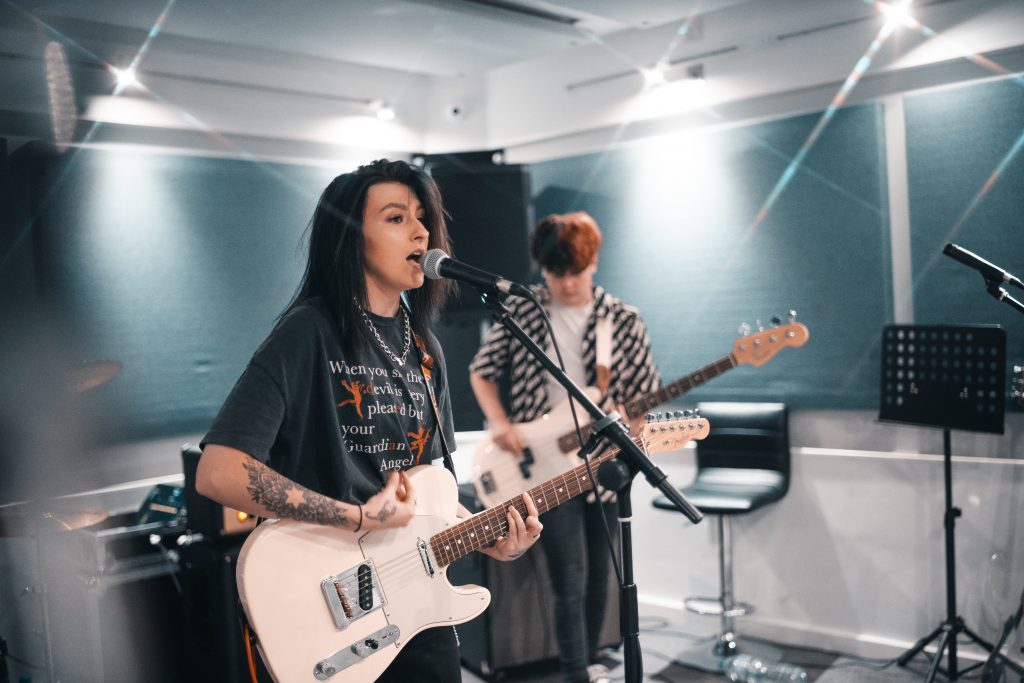 Do we even need to talk a lot about this topic?
We have all heard about top musicians from all over the world, from every age, regardless of gender. Since music (guitar) is an art that everyone can and should learn, it is up to you to find the right source of information.
Guitar Tricks which is generally known as one of the best is definitely a place where anyone can learn to play. And that's all that I am going to say on the subject.
Level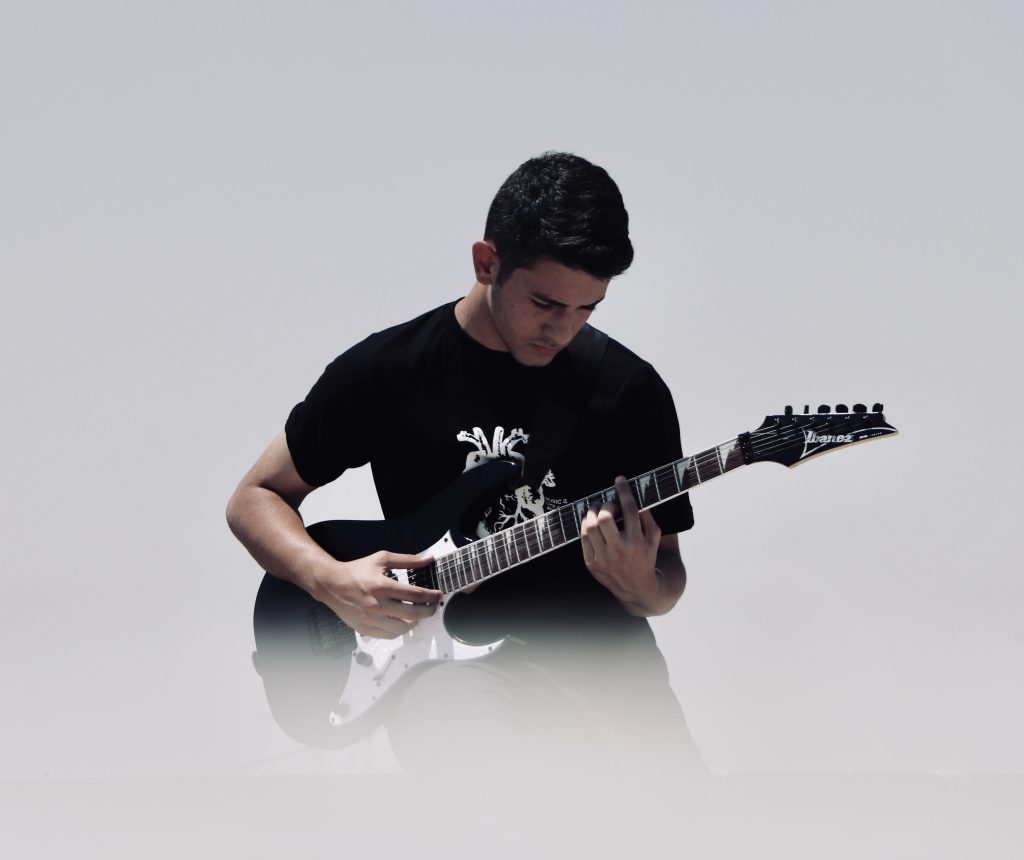 When it comes to whether a learning site is appropriate for a certain level, we need to be a bit more specific and focus on details even.
When talking about levels there are some conditions that need to be met for everyone to be happy, something that is challenging not only for the online guitar lessons platforms but also for every guitar instructor in general.
There are three main levels, beginner, intermediate and advanced.
Even though there is no strict division between the levels, they are based on experience and the weight of the material you have mastered.
Guitar Tricks is an ideal place for beginners. This is why beginners are their main target group. Although it sounds simple, teaching to beginners is a very delicate matter.
These are the first steps that must be carefully chosen and aspects of the learning process that you need to focus on to open the doors for the advancement of each new guitarist.
Guitar Tricks is also a solid platform for those who want to learn something from the next level, namely intermediate guitarists.
If you are an intermediate player you will find that Guitar Tricks offers lessons for a deeper understanding of certain styles that will help you upgrade your knowledge in them. This is one of the strengths of Guitar Tricks.
In addition to the lessons, there are also tips on how to be a better guitarist that can help many players.
But, the Guitar Tricks online lessons are not the place for advanced guitarists.
At this level, there are things that are simply better gained through experience. These are things like playing with other musicians, playing on stage, jamming, recording, and experimenting with music.
Guitar Tricks can provide some advice for those who have missed something on the way to an advanced level, but not much else.
But who knows, maybe Guitar Tricks will be all you need to become a great guitarist.
Stage of life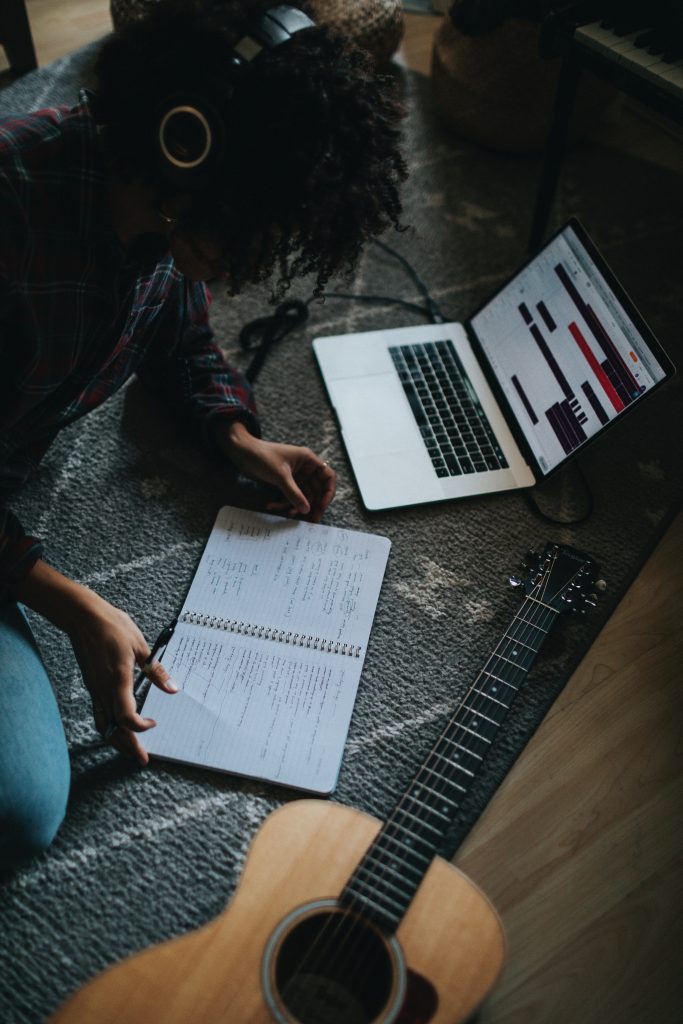 Guitar Tricks is a great place for kids and teenagers because the lessons are easy to follow and are easily available (on the phone, the tablet, or the computer). Which means you only need an internet connection and you are good to go.
For people with a family and demanding work hours, this way of learning is good because it doesn't require a lot of commitment, and it's great for relaxing after a hard day's work, plus you make your own schedule.
Guitar Tricks for the Elderly? Of course!
There is no waiting or going to private lessons, no pressure from the instructors on whether you have learned the last lesson and it is super fun.
Who should go with Guitar Tricks? Almost everyone.
By almost everyone, I mean beginners, intermediate, adults, elders, more precisely all the previously mentioned categories.
Who should not go with it? The youngest guitar learners and the most advanced guitarists.


The youngest learners that are set on becoming top musicians must start learning through a program at an early age that will guarantee more than just fun. These students should be directed toward music schools or private lessons.
But I have to mention that this way of learning can be a big financial burden. This goes in favor of Guitar Tricks, so maybe try a bit of both.
For the advanced guitarists, there might be some specific songs here they want to learn. But as was previously suggested there are many ways to grow outside of online lessons for advanced guitarists.
How does it compare to in-person lessons?
I started learning guitar when these guitar lessons sites were still not a thing and my main or only option was to take lessons in-person And from my experience as a guitar instructor for over 10 years, the conclusion is that individual classes with a good guitar teacher are irreplaceable.
But as I mentioned, this way is more expensive, more difficult to access and limited. And no one can guarantee that your guitar instructor will be good
That's why I think it can go both ways. Both online lessons and in-person lessons have their pros and cons.
What's the cost?
This is a question that interests most potential students. It is normal for everyone that plans to invest time and money into a skill to know how much it will cost.
Guitar Tricks has two pricing options – Full Access Subscription and Basic Membership.
The package names probably give you some basic information about them, but let's do a more detailed comparison to see what you are getting. The difference is very obvious both in price and in the scope of information.
For starters, the Full Access Subscription offers much more than the Basic Membership. Most importantly, the difference in the lessons is incomparable wherein the Basic Membership there are only 24, enough to start learning and experience the site.
By comparison, in the Full Version, there are more than 11,000 lessons, plus Guitar Tricks keeps adding daily new lessons especially in the song section.
Here is the official Guitar Tricks table to see the difference in both options.
If you are determined to learn to play using Guitar Tricks, my advice is you don't even need to start with the Basic Membership, but go with the Full Membership right away.
But if you are still not convinced, there is always a free trial. The free trial is two weeks of unlimited access to Guitar Tricks' library, lessons, metronome, and tuner, technique references, etc. This is the best way to experience Guitar Tricks.
Two weeks is enough time to find the things that interest you but also to discover the things you might have missed from the beginning. After these two weeks, there is an option to continue the membership. You have two options for payment – monthly and annually.
The monthly option is good if you think Guitar Tricks is enough to start learning or make up for what you missed. This is if you are not planning to use a whole year of lessons but are only interested in a few months.
Of course, you will make the best and most informed decision after the two-week trial. This way you can terminate the membership whenever you want but there is a small difference in price.
The monthly membership is $19.95.
On the other hand, the annual membership is longer and thus a bit cheaper, more precisely $179 ($15 per month). The annual membership is ideal for beginners because there is enough material here to gradually progress over time.
And of course, the experience of 14 days is not comparable to one or two months. And to experience Guitar Tricks in the best possible way, there is a Return Policy where all paid membership gets a 60-day money-back guarantee.
So if you are a beginner and decide to study guitar online, Guitar Tricks is the ideal and safest place.
Finally, there are coupons and promo codes. This is an extra reason to start with the lessons right away. With these coupons, you might get up to a 60% discount, which means that you will get the first month for $7.98.
If this isn't enough to get you started, I don't know what is. The annual membership with these coupons and promo codes drops to $99 or $ 29 including Huntington Acoustic Guitar Lessons.
Although I'm more for one on one lessons, these prices are too good not to at least try Guitar Tricks.
Guitar Tricks Lessons
Ok, we concluded that the price is great, so now let's go into more detail about what you get for it. The Guitar Tricks site is very clear and well organized.
It is divided into several sections, which we'll discuss in more detail now.
What's included?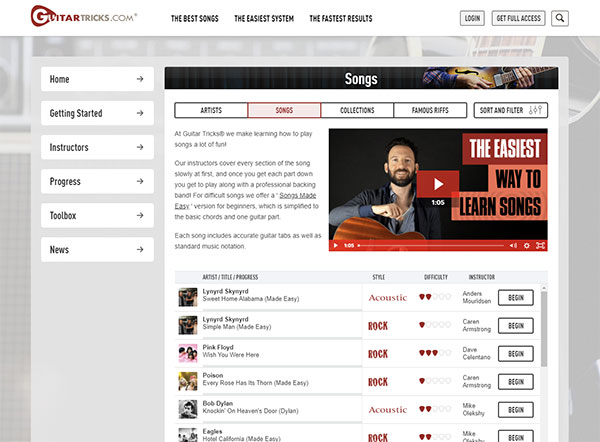 The main page starts with the basics. This is the most developed part of the site where the basics of learning are very well set.
The schedule is very efficient and well-designed, which makes it very easy for the student to stay interested for a long time, enough to keep the attention and create a habit of learning, practicing, and using the site. The most basic level includes open string chords, changing chords, simple melodies, and rhythm.
Furthermore, there is a huge Guitar Tricks song list that contains music from almost all genres and artists. A small minus in this song list is that there is a lack of guitar instrumental challenges, more precisely compositions by legendary guitarists such as Eddie Van Halen, Joe Satriani, Steve Vai, Guthrie Govan, etc.
However, Guitar Tricks offers everything a guitarist needs to get to that level of playing, including the most important guitar techniques such as alternate and economy picking, fingerstyle, legato, vibrato, bending, hammering and tapping.
Guitar Tricks also includes an exercise section where there are lessons on how to stretch your fingers, chord changing exercises, scales and note combination exercises, and warm-ups.
And last but not least, the Guitar Tricks forum. This is where all the users can communicate with each other and share experiences and knowledge, and maybe even create music.
What's the format?
The lessons and levels are divided into new groups of lessons in the form of a tree that is constantly expanding.
As I mentioned earlier, the lessons are clearly divided for beginners, while the lessons for the advanced guitarists are more specific and each guitarist must choose for himself what he wants to focus on.
But this is ok because if you are an advanced guitarist you know for sure what you came for.
Types of music genre
This is where advanced guitarists can get the most out of the site. Thanks to the large number of instructors, guitar tricks have quite successfully the largest selection of popular genres.
Here you will find bluegrass, classical, funk soul, jazz, metal, rockabilly, surf, and world music.
Tools and features included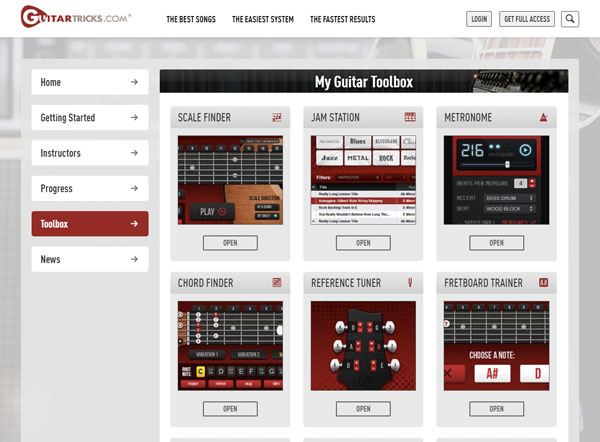 Another very interesting section is the toolbox where it has the most important tools like the metronome, tabs, and a jam station with backing tracks to learn how to use the scales and the techniques.
Another useful section is the "advice" section where you'll find information on how to be a better guitarist.
There are also tips for choosing and using guitar equipment and gear.
Comparison
In this section, we will make a comparison with several Guitar Tricks' rivals in the main categories – lessons, quality, and price.
Guitar Tricks vs FenderPlay

FenderPlay is Guitar Tricks' biggest competitor. The program and the sections are very similar in quality and options, but it is still a lesser copy of Guitar Tricks so I would put it in second place.
Also, the pricing is a little different in favor of Guitar Tricks. Here the price of $19.95 is fixed and there is no option for an annual subscription which makes the savings smaller.
A small plus is a free trial which is 30 days here.
Guitar Tricks vs JamPlay

JamPlay is following in the footsteps of Guitar Tricks and FenderPlay and it is in third place according to the beginner program and the quality of the lessons.
They have an advantage in the number of guitar teachers (over 100) that offers more options for genres and styles.
The price is the same as the previous two without the Guitar Tricks coupon codes and discounts.
Guitar Tricks vs Yousician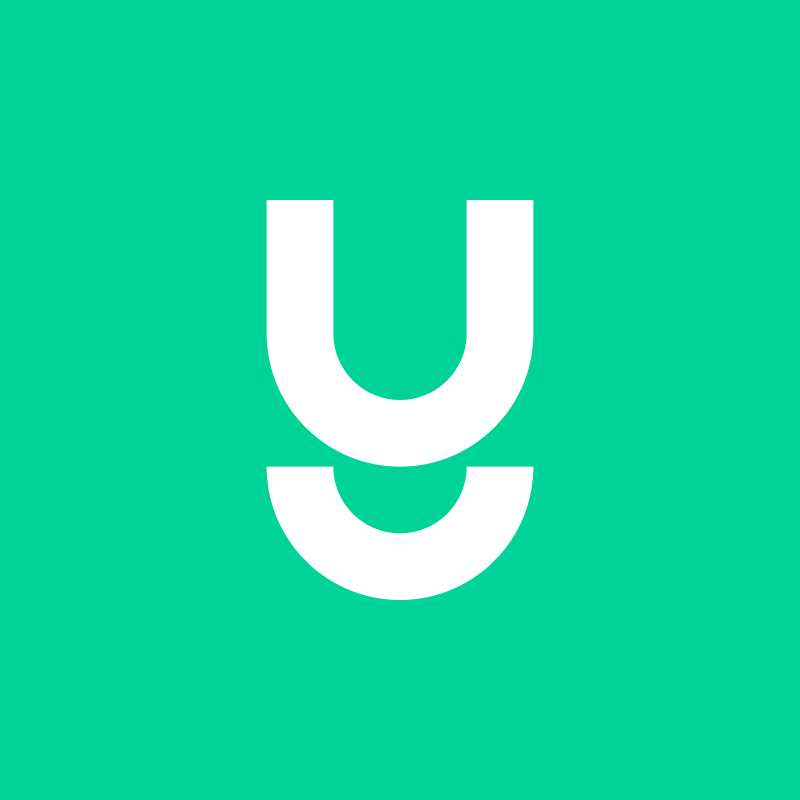 Yousician is an app that works similarly to the popular Guitar Hero game. If you haven't heard about it, you might want to check it out.
Unlike Guitar Hero, Yousician uses guitar instead of guitar controllers.
The device on which the app is installed (PC, android, IOS) registers the notes from the guitar through the microphone and compares them with the notes on the screen.
Some tasks that must be mastered to be able to continue with more complex and interesting exercises and songs.
This is roughly Yousician.
There is one type of membership. There is also a short free trial but the main monthly membership is $9.99 or the annual membership is $119.99.
You also get to learn other instruments (bass guitar, piano, drums) if you have a $179.99 annual membership.
Yousician has a very different approach from Guitar Tricks and FenderPlay, so if you're thinking of something alternative, try the free trial.
A few words about Justin Guitar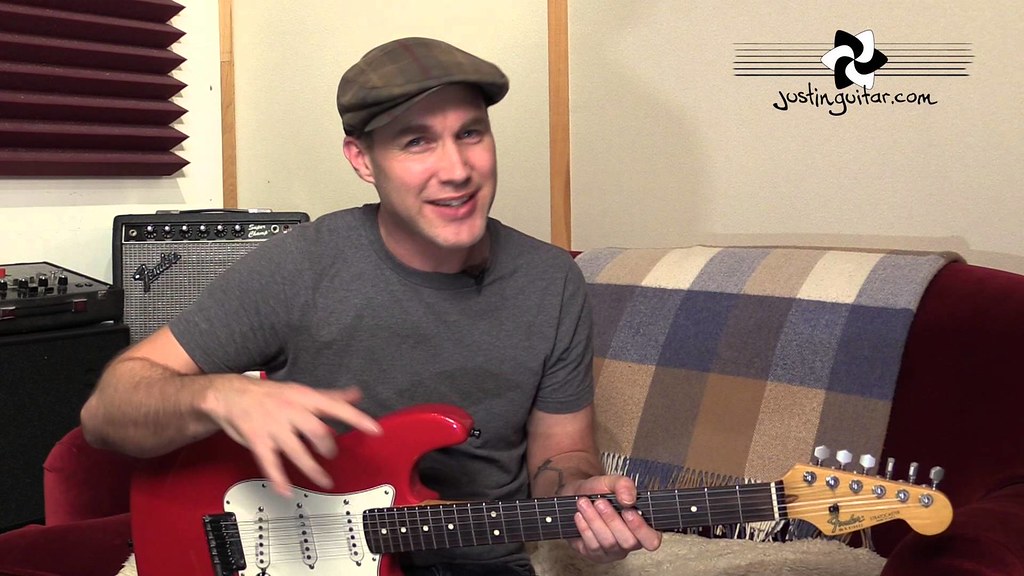 The whole program (which is mainly intended for beginners) is created by only one teacher – Justin himself. It's amazing how much music a musician can cover for beginners.
In addition, some guests who share more specific or somewhat advanced lessons. They have done an incredible job of growing their lessons over the years and also have developed an app to help you keep learning. They are one of, if not the best free resources you'll find online to learn guitar!
Grading system
1. Guitar Tricks
| | |
| --- | --- |
| Beginner program | 10 |
| Song List | 8 |
| Audio and video quality | 9 |
| User friendly | 10 |
| Extra features | 8 |
| Cost | 9 |
2. FenderPlay
| | |
| --- | --- |
| Beginner program | 9 |
| Song List | 7 |
| Audio and video quality | 9 |
| User friendly | 8 |
| Extra features | 8 |
| Cost | 8 |
3. JamPlay
| | |
| --- | --- |
| Beginner program | 7 * |
| Song List | 8 |
| Audio and video quality | 8 |
| User friendly | 8 |
| Extra features | 8 |
| Cost | 8 |
* Lessons are too long
4. Yousician
| | |
| --- | --- |
| Beginner program | 6 |
| Song List | 7 |
| Audio and video quality | 9 |
| User friendly | 7 |
| Extra features | 9 |
| Cost | 10 |
5. Justin Guitar
| | |
| --- | --- |
| Beginner program | 9 |
| Song List | 7 |
| Audio and video quality | 9 |
| User friendly | 7 |
| Extra features | 9 |
| Cost | 10 |
Question: Do we make a commission on referrals to Guitar Tricks?
Answer: Yes, we do. Our site makes a profit through affiliate marketing and ads. That is why we did our best to do extensive research and we hope that you will find this review helpful, honest and interesting. We also hope that you will sign up through our affiliate link.
We spent a lot of time actually going through Guitar Tricks and writing a detailed breakdown of the pros and cons of what you might expect from this site, and we hope that it helped you along the way.